Explore 88 Marketplace's Diverse Product Catalog
Immerse yourself in a world of exquisite tastes and culinary traditions at 88 Marketplace. The restaurant's sprawling shopping mall in the heart of Chicago invites you to embark on a culinary journey through Asia's vibrant flavors. With an extensive and diverse product catalog, 88 Marketplace offers an unparalleled selection of ingredients, spices, and specialty items to bring the authentic taste of Asia to your kitchen.
Step into the restaurant's market and be greeted by aisles filled with the freshest produce, aromatic herbs, and spices sourced directly from Asia. Discover a treasure trove of imported sauces, condiments, and pantry essentials that will elevate your cooking to new heights. From staple grains like rice and noodles to exotic fruits and vegetables, the restaurant's product catalog caters to all your Asian cooking needs.
Savor the Culinary Delights
Treat yourself to a feast of flavors as you dine in 88 Marketplace's vibrant food court or explore the individual restaurants within the marketplace. Indulge in authentic dim sum, savory dumplings, mouthwatering noodles, and succulent barbecued meats. Craving something sweet? 88 Marketplace's bakeries serve up an array of freshly baked pastries, desserts, and traditional Asian sweets that will leave you craving more.
Experience the artistry of Asian culinary traditions as 88 Marketplace's talented chefs expertly prepare each dish with passion and precision. Whether you're seeking a quick bite or a leisurely dining experience, 88 Marketplace's restaurants and bakeries offer a welcoming ambiance that invites you to savor every moment and every flavor.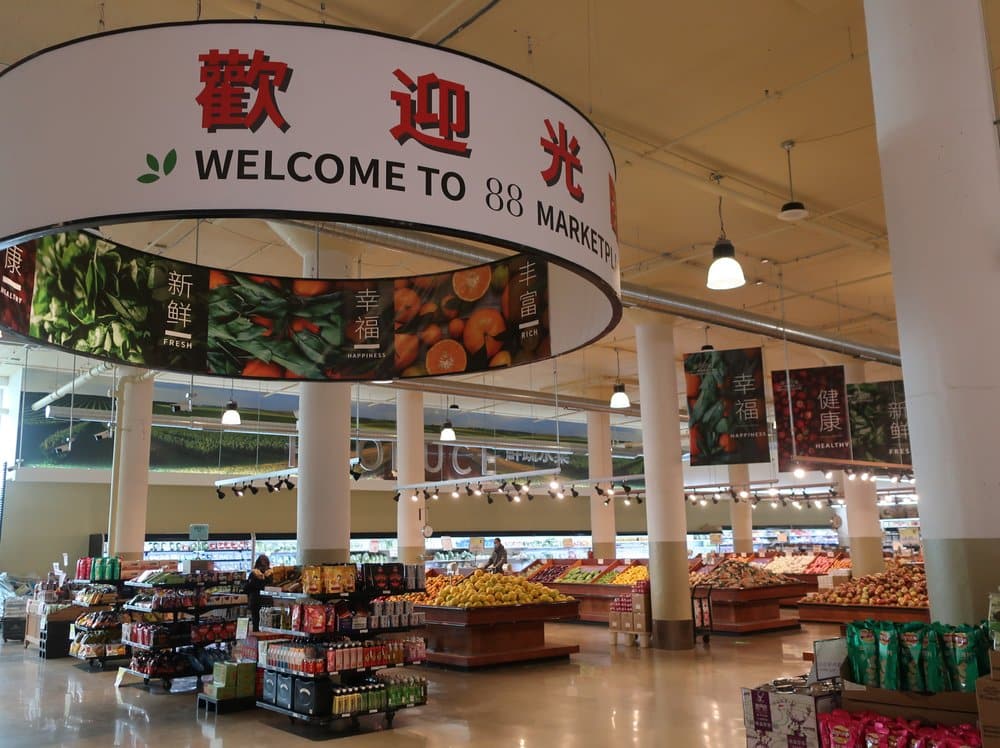 Convenient Shopping Experience
88 Marketplace takes pride in offering a diverse range of services to enhance your shopping experience. Here's a list of the services 88 Marketplace provides:
88 Marketplace's grocery offers a wide selection of general merchandise, ranging from household essentials to trendy accessories. Discover quality products that cater to every need, ensuring convenience and satisfaction for all 88 Marketplace's valued customers.
From nourishing skincare essentials to vitamins and supplements, 88 Marketplace has everything you need to look and feel your best. Shop with 88 Marketplace for a healthier and more beautiful you.
88 Marketplace offers a diverse range of refreshing packaged drinks to quench your thirst. From sparkling water to organic juices and energy drinks, the restaurant's grocery has the perfect beverage for every taste and occasion.
88 Marketplace offers a delightful assortment of ice cream flavors, ranging from classic vanilla to exotic mango sorbet. Indulge in its creamy, rich textures and savor the refreshing taste of 88 Marketplace's handcrafted ice cream creations.
Indulge in a delectable selection of artisan cheeses, creamy yogurts, and fresh milk. Delight your taste buds with 88 Marketplace's premium sliced meats, flavorful sandwiches, and savory deli platters.